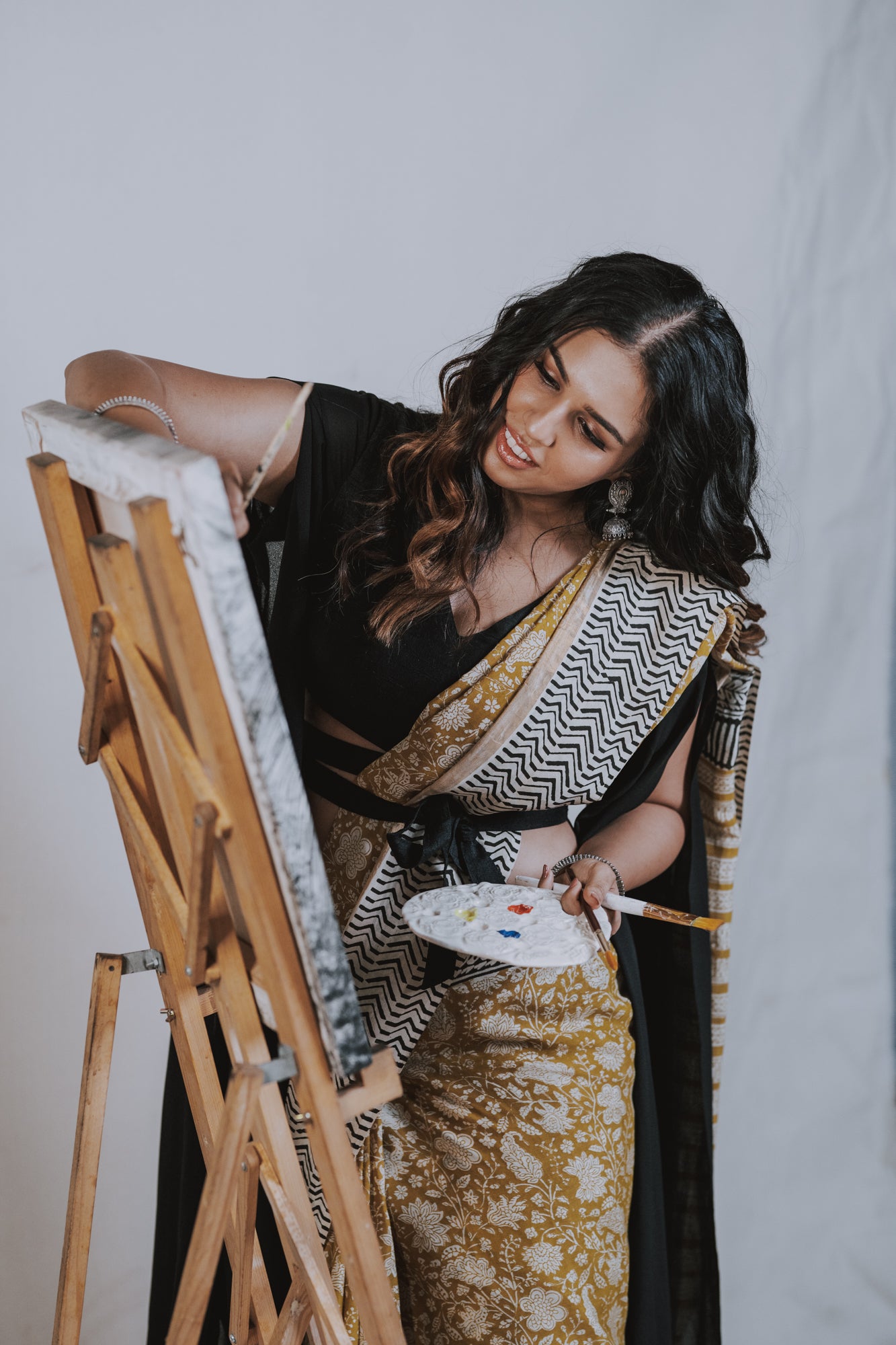 Curated by Komal Panchal
Komal Panchal is a multi-talented individual and a fashion designer, artist, and explorer of art, architecture, and history. Her keen eye for detail and aesthetics has helped her become a successful designer, where she creates unique designs that are both contemporary and traditional. During her travels, she has collected textiles from different regions of the country, which have inspired her latest saree collection. Each saree in the collection has been designed in collaboration with skilled artisans, making it a true labor of love.
What makes Komal's saree collection truly unique is that each piece has been touched by the hands of the weaver who creates the fabric to the artisans who adds intricate details, every step of the process is done with care and precision. This attention to detail and skilled craftsmanship ensures that each saree is a work of art in its own right.

Kanvas, our popular footwear brand, has decided to venture into the world of Indian fashion with the launch of its statement saree collection. Our talented designer Komal Panchal has curated a collection that truly represents the essence of Indian fashion.
The collection titled "Drapes Of Heritage" is a unique amalgamation of pieces picked by Komal from her travels across India. Each saree has been designed in collaboration with local artisans, making them a true representation of the diverse and rich culture of India.
The collection is curated fashion for everyone, and the versatile style can be worn by women of any age and at any occasion. The sarees are not just a piece of clothing but a statement accessory that adds a touch of elegance and sophistication to any outfit.
Komal Panchal, the designer of the collection, said, "I believe in creating designs that are not only beautiful but also functional. The Kanvas saree collection is a perfect example of that. Each saree is designed to be versatile, and the high-quality fabric ensures that it is comfortable to wear for long hours."
The launch of the Kanvas saree collection is a testament to the brand's commitment to innovation and creativity. Kanvas has always been known for its high-quality and stylish footwear, and with the launch of the saree collection, the brand has once again proven its versatility and ability to adapt to changing fashion trends.
The Kanvas saree collection is a celebration of India's rich cultural heritage and a true representation of the brand's commitment to providing its customers with the best in fashion and style.